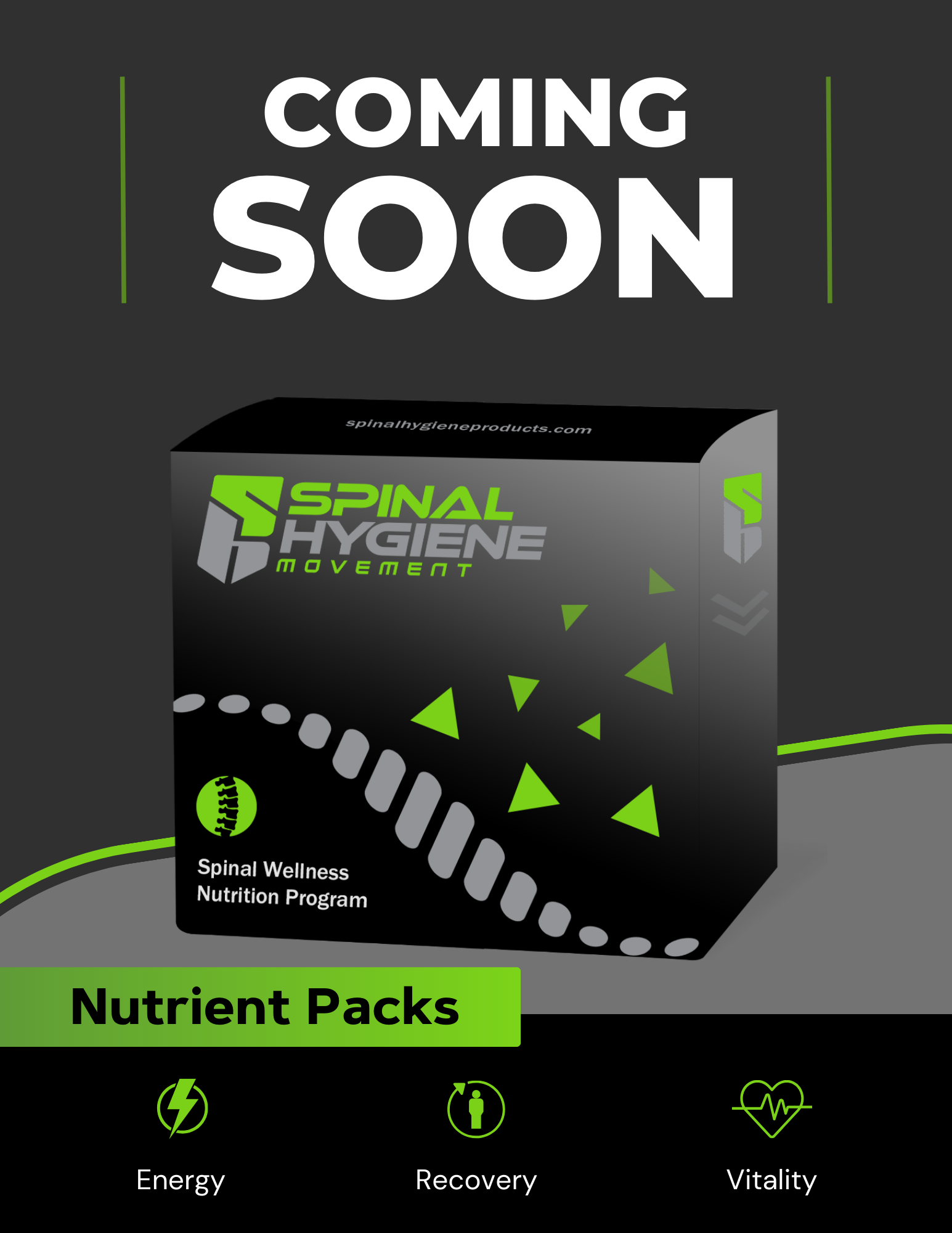 Elevate Your Spinal Wellness Journey!
Presenting Spinal Hygiene Movement's Nutrient Packs – the culmination of years of research and dedication to spinal health.
ENERGY TO KICKSTART YOUR DAY.
RECOVERY TO RESTORE AND REGENERATE AFTER THE DAY'S CHALLENGES.
VITALITY TO MAINTAIN OVERALL WELLNESS & PEAK PERFORMANCE.
Contains glucosamine and chondroitin to help strengthen cartilage and slow the breakdown of the spinal discs due to disease, wear & tear, and the normal aging process. Glucosamine acts as a substrate for cartilage repair. Chondroitin constitutes the majority of the glycosaminoglycans found in articular cartilage, it helps to maintain the hydration of the joints, and it inhibits enzymes that lead to degeneration of cartilage. This can help to encourage longterm relief from spinal pain.
Omega-3 fatty acids have been shown in multiple animal studies to reduce intervertebral disc degeneration and accelerate nerve regeneration. Omega-3s are also precursors to anti-inflammation molecules called eicosanoids that reduce inflammation, and therefore protect against spinal catabolism as well as provide short-term pain relief.
Contains 29 essential nutrients, including vitamin C, which is essential to collagen production, b-vitamins which help heal and repair damage to the nerves.
B6 is crucial for neurotransmitter production which are needed for communication across the nervous system channels.
Methylated B-12 and folate are essential for brain and central nervous system function.
Magnesium, copper, boron, zinc, selenium, and Magince are also vital for healthy bones and connective tissues.
Vitamin C is essential to healthy collagen formation, which makes up the spinal discs and is also essential to tendon, ligament and bone health.
B-vitamins, such as thiamine, riboflavin, and niacin, are essential for the Krebs cycle, which generates ATP that is important for building new tissue as well as repairing damaged tissue, including spinal cells.